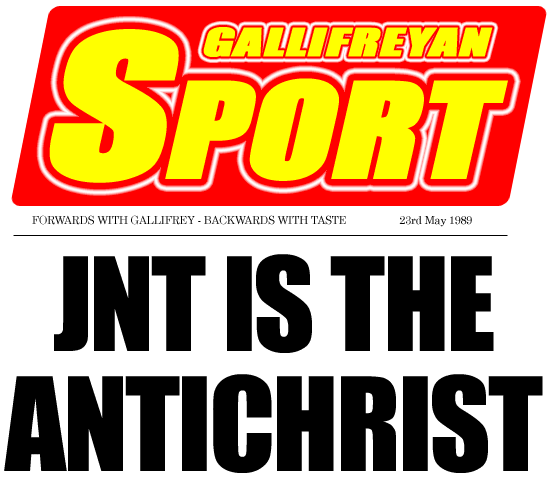 BBC PRODUCER IN SHOCK HORROR LIBEL SCANDAL!!!
Sub-Editor Running Out of Letraset Exclamation Marks!!!!!!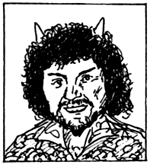 Yes, it's true! At last it can be revealed! For years puzzled Dr Who fans have wondered why their beloved, SACRED programme has been scraping the depths of degeneracy and LEWDNESS.
Now, in an exclusive, made-up-in-the-pub-ten-minutes-before-the-deadline expose, your Fun-Loving Gallifreyan Sport - The Paper That CARES - can tell the truth behind the man they once called God, but now just call Goddamn awful.
TEN REASONS WHY CRAZY JOHN IS THE SPAWN OF SATAN!
The resemblance is uncanny (see photo).
Eric Saward says so.
So does DWB.
He first worked on Dr Who on 'The Space Pirates', the sixth story of the sixth season, which was six episodes long.
It'd explain an awful lot.
'John Nathan-Turner' is an anagram of 'Jerome K. Beelzebub'. Almost.
If you write down the titles of all his stories in reverse alphabetical order and join together all the 'Q's, you get a pentagram.
Tiddley-pom.
Isn't that enough?
It just seems so right, doesn't it?
TO BE INSERTED HERE - SOME WILDLY OUTRAGEOUS CLAIM ABOUT THE CENTRE-PAGE FEATURE CONCERNING FISH PEOPLE, NAZIS AND BANANAS
SMALL PRINT INSISTED UPON BY OUR LAWYERS : Sword of Truth Communications Inc., publishers of Your Fun Loving Soaraway Gallifreyan Sport wish to apologise unreservedly for any distress caused to a Mr J.K.Beelzebub of Brighton by last week's 72pt front page banner headline "JNT IN DRUG-CRAZED SATANIC RITES WITH AARDVARK AND COLD CUSTARD". This was due to a typographical error.