107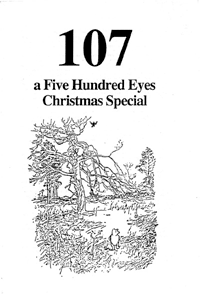 A Christmas special from 1989.
I did this on an Amstrad PCW, so can't transfer the files direct to a PC (3-inch discs you see). I think there may be a lot of typing involved in getting this one on the web ...
So what are you missing? Basically, a 24-page egozine in place of a Christmas card to all my friends. Contents: what I did on my summer holidays, the origins of the name Five Hundred Eyes, the terrors of nerd culture, and an interminably long report of Honeycomb - a Swindon convention that seems so long ago that I fear I imagined it ...